| | |
| --- | --- |
| Posted by cedarcovewellness on November 6, 2018 at 7:45 AM | |
My husband Bill found this tiny Snapping turtle on our back deck in late June. We had no idea how he got there. You can see how very tiny the baby Snapping turtle is compared to Bill's finger. It was very early in the year for Snapping turtles to hatch. The usual time of year for turtles to hatch is mid- August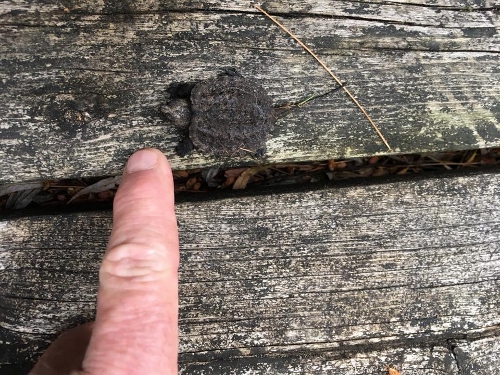 I contacted the Ontario Turtle Conservation Centre and they got back to me very quickly. They asked for our location and found a suitable pond nearby for his release. We do have a creek on our property, but they explained that ponds are best for baby turtles. As soon as my hands got near the little turtle, I started to channel Reiki. This little guy took a huge amount of Reiki! The turtle also received Reiki on his way over to the pond.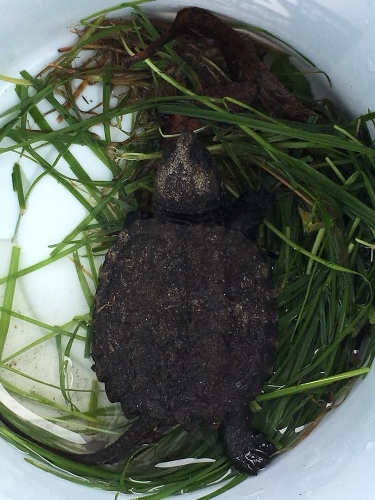 We released the turtle in the pond at Ball's Mill Conservation area, which is quite close to our home.
As I released the baby Snapping turtle in the pond, I thanked him for sharing his presence with me and for the gift to be able to offer this little creature Reiki! I love the feather beside him as well. I hadn't noticed it when I put him in the water.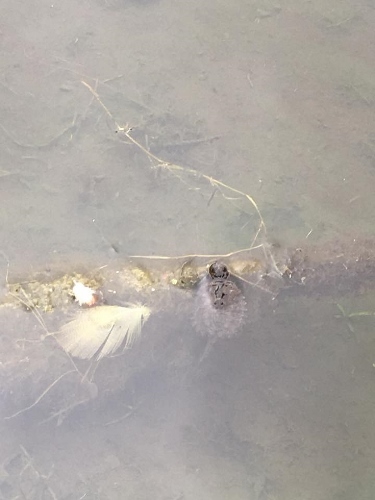 When I got home, I looked up turtle in the Ted Andrew's book Animal Speak. It states "that you've been going much too fast for too long and to slow down and pace yourself". That was a very important message for me. The white feather symbolizes angels, faith and protection, also assuring me that I am on the right path in my life.