| | |
| --- | --- |
| Posted by cedarcovewellness on September 19, 2012 at 6:40 PM | |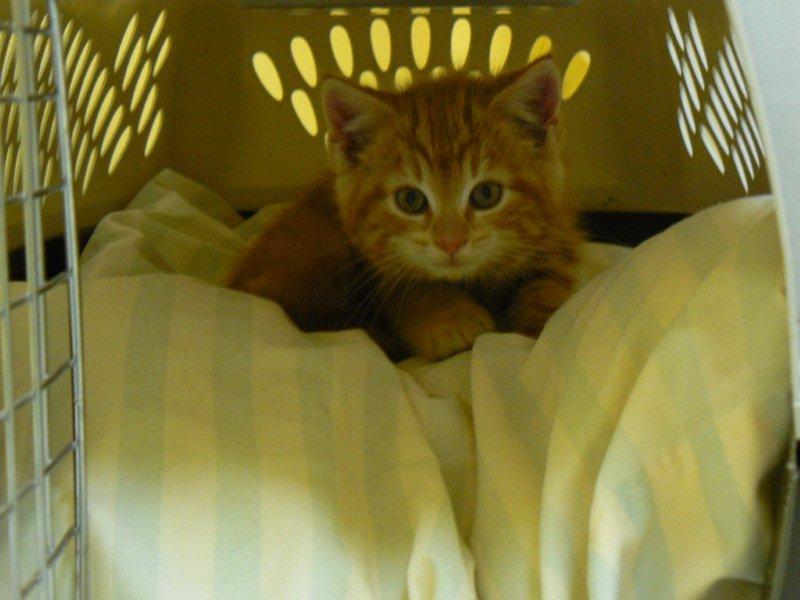 Miss Kitty showed up on our front porch at 4:30 am on November 28th 2011. Our dog Winnie woke us up barking. My husband went downstairs to investigate and heard a meowing from outside the front door. It sounded like a kitten! I went outside and seen an adorable tiny orange kitten on the front step. I had brought leather gloves outside in case this kitten was feral. As soon as I got close to her my Reiki hands turned on and started to send her healing. The cutest little orange kitten snuggled into my neck and I couldn't believe my good fortune! She had the loudest purr for such a tiny kitty, a very lovely purr of gratitude.
I immediately brought her into the house and put her in the laundry room. She opened her mouth to meow and no sound, just a little squeak. I wonder where else she had been meowing. A rectangular dish pan made a make shift cat litter pan and I put the cat carrier with a nice blanket in it on the floor of the laundry room for this baby to sleep in. I gave her some warm diluted evaporated milk from an eye dropper and some canned cat food. This little sweetie didn't even know that food came on a plate. I had to put my finger into the cat food and put it in her mouth. As soon as she found out how good that cat food tasted, she gobbled the food from the plate. It didn't take her long to realize when she seen a plate it meant food!
She was so tiny, where could she have came from? We are rural but there are no barns close by and this baby certainly didn't seem feral. Her little belly was swollen, I think from parasites and lack of food. I went back outide with my flashlight to make sure there were no other kittens or mama cat outside.
This little ball of orange fur was covered in fleas and ticks. I later used a flea comb and powdered her with diatomaceous earth. It was unbelievable that this little girl had so many fleas and ticks. She was so good to be combed. I know she appreciated the love and attention. My hands sent her Reiki healing everytime I was even close to her. She knew that energy made her feel better. She continued to receive daily Reiki sessions to help with her emotional and physical healing.
Miss Kitty Reba Rouse (her middle name is Reba because of her red fur) has become a very loved part of our family. Our dog Winnie and cat Eddie both love her and they will curl up and sleep together. Miss Kitty has received her Animal Reiki attunement, just like all our other fur babies. She likes to help at Reiki courses I teach and Reiki shares, where she will give Reiki to others. She is such a special girl. She's Miss Kitty the Reiki cat!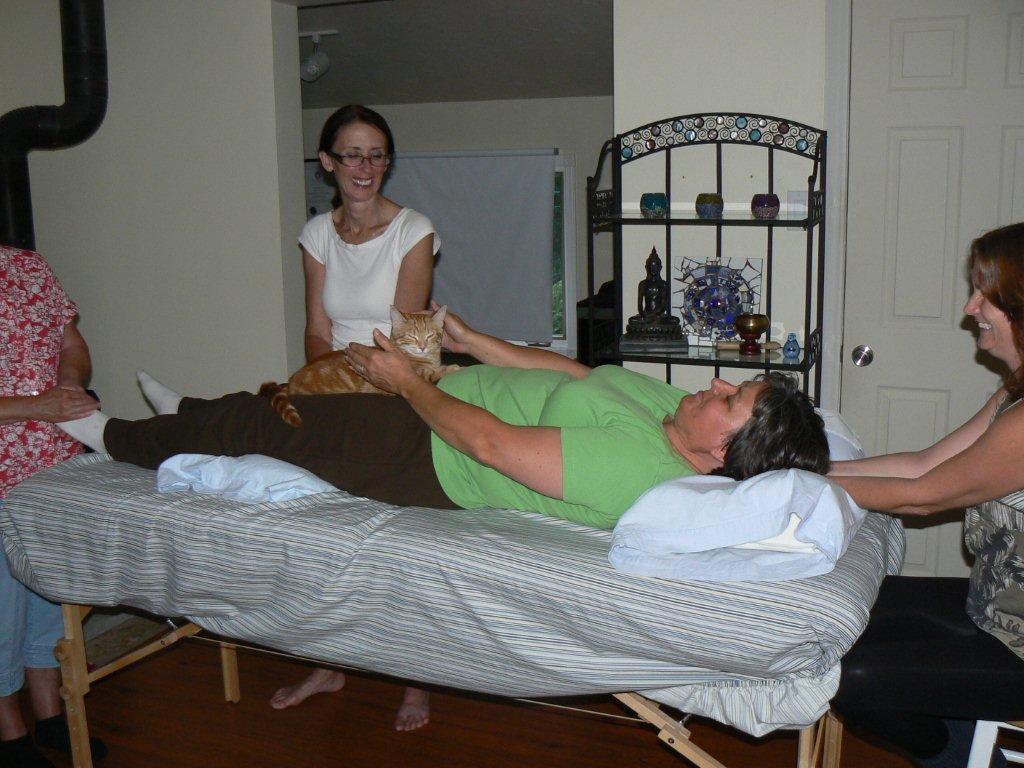 Miss Kitty giving and receiving Reiki at the monthly Reiki Practice Share
Copyright © Susan Rouse 2012