How to Create a Vision Board
What to put on your vision board
Vision boards work by using the law of attraction. You attract positive or negative into your life. Attract the positive! I use a large piece of foam board from the Dollar store, it works better than bristol board. 
You can keep track of the date that you made your vision board and the date that your items on your board manifested. Glue the blank list on the back of the board and write the date that you created the vision board.
Put your happy smiley face in the middle of your vision board. Find the pictures, images etc. then think about what they mean to you and why they attract your attention. Be very specific about what you want.
Use affirmations, words, pictures, photos, quotes, drawings, symbols, stickers, ribbons and anything else that you can attach to your vision board. Use pictures that are big enough for you to see easily. Remember you want your board to be very attractive to you.
Before you glue images and items on, place them on the vision board to see if they are where you want them. You want your vision board to excite you when you look at it. It should be colorful and dazzling! State your visions, dreams, objectives and targets.
Abundance cheques: Make the cheque out in your name, with the date you created the vision board. In the memo area you could put limitless abundance or services rendered, whatever makes sense to you. It is signed by the Universal Bank of Abundance. Write an amount that is believable to you. You could write a weekly, monthly or yearly amount.
Ideas:
Different types of vision boards: Business board, family board, relationship board, house/home board, healthy habits board, financial board, places you'd like to travel board or a potpourri board which is a mixture of visions and dreams.
Color: Use color to attract what you want to receive. Different colors attract different things. Some suggestions are blue for business success, green for health, rose is for relationships, yellow is for insight and knowledge. Or use a color that means something to you or that you love.
If there is something you want to do for example yoga, cut out a picture of someone doing yoga. If there's a trip you want to go on cut out a picture of that place and possibly a plane, train or car going there. If you want to start your own business find a picture or image and make yourself a business card. Use your imagination!
State your affirmations, sentences and words in the present tense. Use only positive words. What you send out comes back to you. If you do say a negative word or phrase then say cancel and this will erase that intention.
Words and phrases: Use positive and high energy words.
Some examples are: confident, joy, renewed, believe, positive, empowered, peaceful, celebrate, beautiful, love, magic, happiness, grateful, abundance, prosperity, healing,blessings, dream big, dream it do it, release your inner super hero, in control, self-aware, go for it. You can do it! You have the power, healthy and happy, healthy weight, I am relaxed, I am focused. I am inspired! Expect more, new you, exceptional living, joyful life, healthy wealthy and wise, create the life you were born to live! Tomorrow begins today! Earn as you learn.
Other ideas:
Food/drink that are healthy for you that you want to crave.
Exercise that you want to do.
Healthy weight.
Your ideal monthly/yearly income or the amount in your bank account.
A vehicle, house, boat, jewelry, clothing etc. that you want to own
A trip that you would like to go on.
Abundance: Love, monetary, success.
Your vision board should be placed somewhere you will see it often. If you don't want others to see it, keep it somewhere private.
Visualize yourself doing the things you want to do and receiving everything you want toreceive! Use all your senses! Have fun and make it real!
If you have Reiki, send it to empower your visions and dreams!
©Susan Rouse 2017
www.cedarcovewellness.com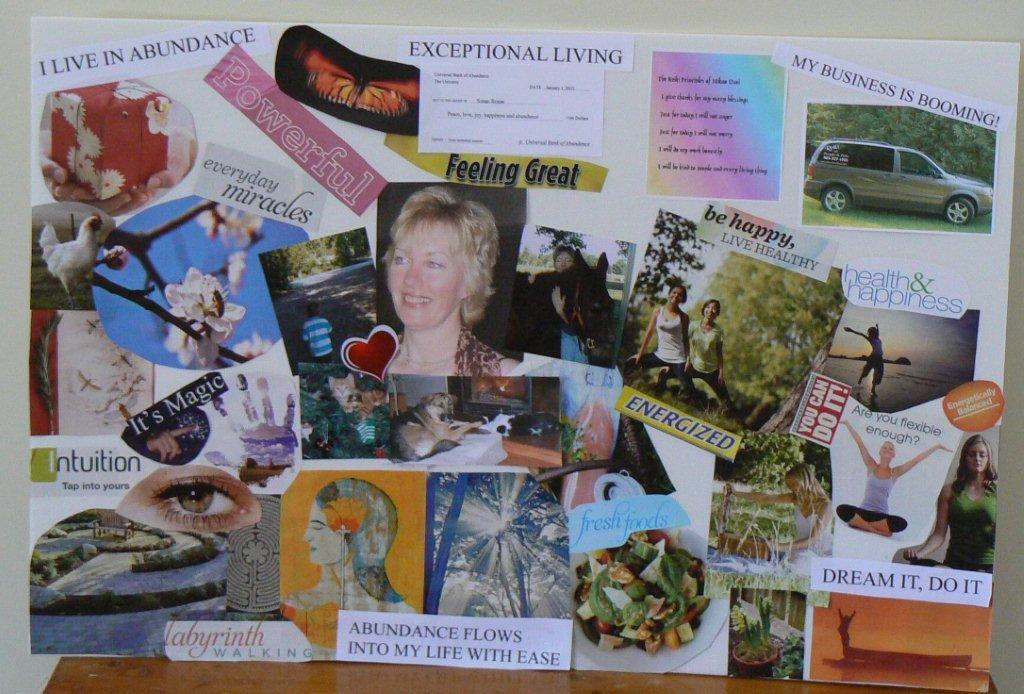 Excellent for high energy positive words, a very inspiring book:
Every Word Has Power: Switch on Your Language and Turn on Your Life by Yvonne Oswald
Heal Your Body by Louise Hay (affirmations for emotional and physical health)