I have offered Reiki to donkeys, mules, cats and dogs while they are transitioning, and the energy is very calming and comforting. Offering Reiki while an animal is passing away, naturally or with veterinarian assistance, helps the animal to cross over easier, reducing the time and any pain and stress. The animal's family or care providers will also benefit from the Reiki energy. You can fill the room with Reiki energy and it will help everyone.
Whenever possible, I will usually give the pet or animal a Reiki session before, as well as during, the transition or euthanasia. I find that when animals are palliative or ready to transition they need shorter Reiki sessions. It's important to talk and communicate with them. While telling them step by step what is going to happen next I send my thoughts and words in pictures to him or her. This allows that, just as for humans, the animal is always in control of the Reiki session.
Grounding is very important when an animal is going to transition. It doesn't keep them here, but helps to send them to the other side, connecting with universal energy. Grounding will also help with discomfort and the buildup of unwanted energy. Because touching can sometimes upset an animal at this stage, and in some circumstances I offer hands-off Reiki particularly to their feet or tailbone.
It's equally important to keep yourself grounded as well. You don't want to become light headed or pick up any unwanted energies. An easy way to ground yourself is visualize yourself as a tree, with your feet growing roots deep into the earth and feeling that grounded connection.
I often use the technique of brushing the energy upward and past the crown chakra as this helps to release the animal's spirit when they are transitioning. You can also do this in your mind if you see it is either upsetting to the animal or inappropriate to do this at the time. You do not want to get in the veterinarian's way.
Another valuable practise is to energize a blanket or towel with Reiki for the animal to lie on while being put to sleep or passing away naturally. Put the towel or blanket between your hands or place both hands above the item and send Reiki into it for a few minutes. If you are Reiki Level 2 or above, add your Reiki symbols. You will feel the wonderful energy in it.
Sending distance Reiki to the animal or pet can be another valuable way of helping with Reiki energy. If you can't physically be there, whether it's because of the distance or if it is too emotional for you, Reiki is always helpful.
I get very positive support from the veterinarian who attends the animals at PrimRose Donkey Sanctuary. She appreciates the Reiki sessions very much, knowing it helps the animal pass quickly and more peacefully. As well, she has often asked me to clear the excess energy away from the animal after they have passed. This does not keep the animal's spirits from connecting or communicating with us, but helps them in their transition to the other side.
Justin Credible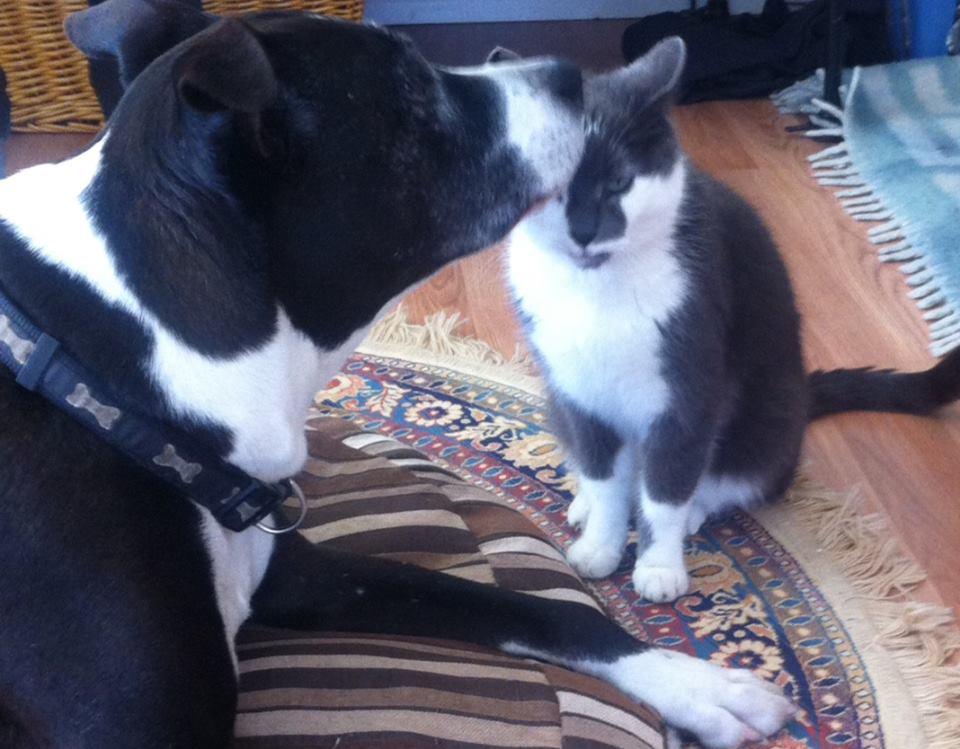 Justin Credible lived a very long and happy life at PrimRose Donkey Sanctuary. Justin received regular Reiki sessions since I started volunteering at the sanctuary. He was always very happy to have his Reiki session. I was with Justin offering him Reiki, when he was put to sleep. Justin's guardian Sheila, a few of the other volunteers and Justin's cat Boots were also by his side. This photo was taken on that day. Justin was a much loved part of the PrimRose Donkey Sanctuary family. It was very emotional but I know Reiki helped him to go quickly and with less stress. Justin also had frequent Reiki sessions prior to that day.
Russell mule and Animal Reiki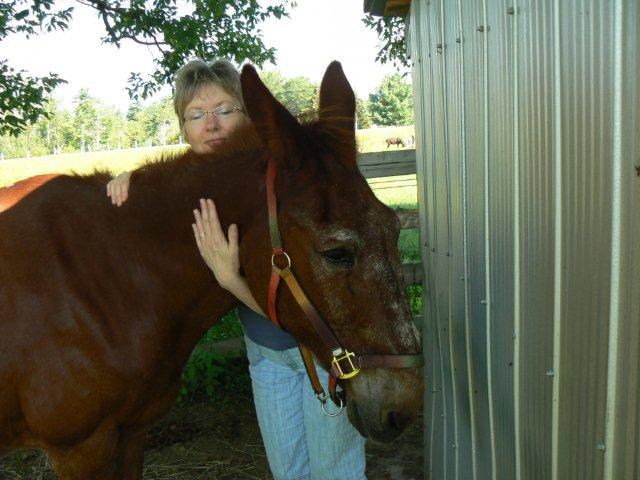 Russell was a very large and wonderful mule who arrived at PrimRose Donkey Sanctuary extremely thin and emaciated. He received lots of love and amazing care at the donkey sanctuary and lived to be 50 years old. He was an amazing mule that loved his Reiki sessions. The first time I met Russell, I offered him Reiki from across the barnyard and he walked over and plopped his jaw into my Reiki hands. I found out later from Sheila that he had some teeth issues. Russell knew exactly where he needed Reiki! It's amazing how animals know.
Russell knew it was time to go, and I gave him a Reiki session before and during the transition. He knew what was going to happen and was fine with it. He knew it was his time to go. Since Reiki intuitively opens you up, it helps you to easily communicate with the animal.
Elliot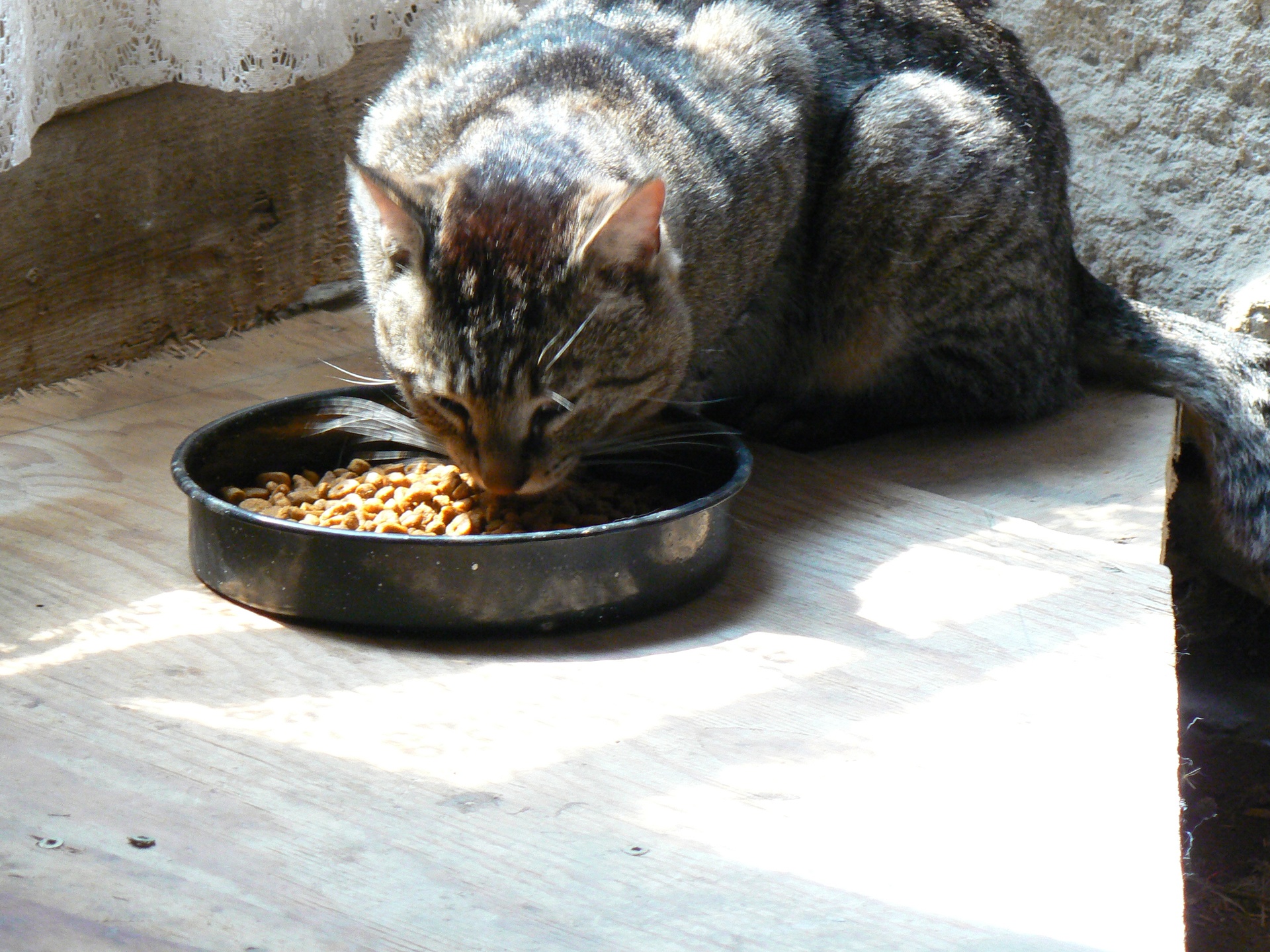 Elliot's guardian Sheila, along with the vet decided it was time for him to be put to sleep. He was very old and thin and not well. Apparently Elliot had other ideas. When the vet arrived, Sheila picked up Elliot with the intention of having him put to sleep. Elliot gave Sheila a hard bite, so she decided it wasn't his time to go.
A few days later I was going to the sanctuary to volunteer. As I turned onto the sanctuary road I saw a cat near the road, and it was Elliot. I called the sanctuary and Sheila brought a cat carrier for him. I was giving him Reiki, and very quickly my hands cooled. Elliot had passed away. Sheila was relieved that Elliot had not passed alone, and she knew where he was. She was very pleased that he had received Reiki as he transitioned.
Holly the Reiki Dog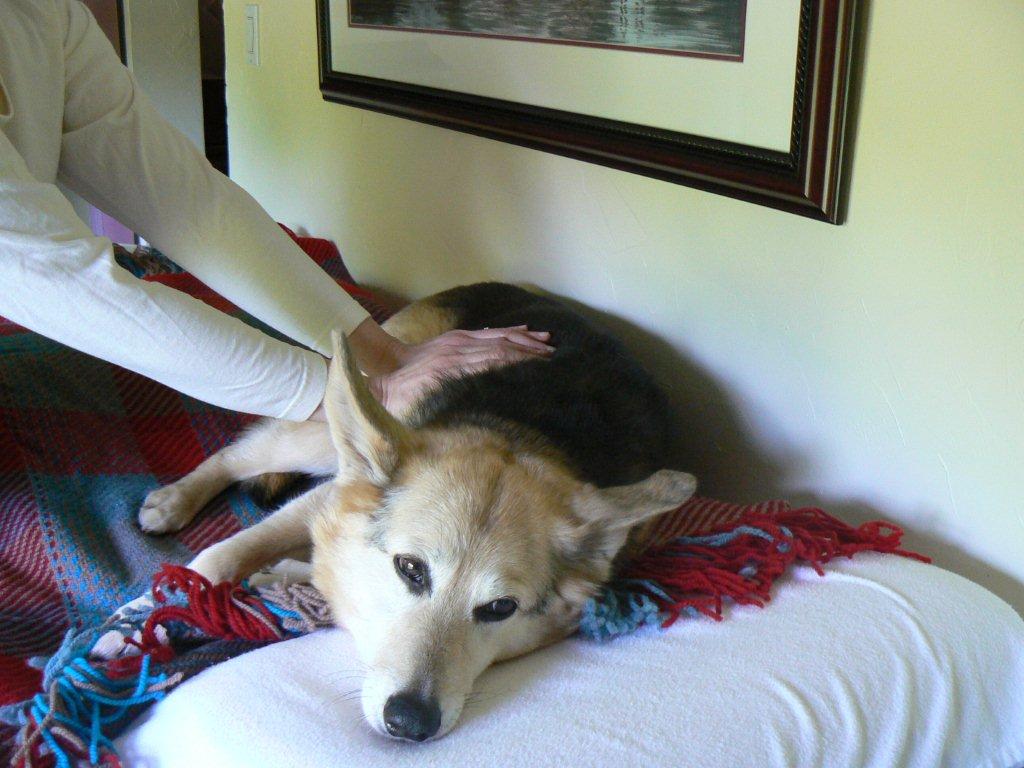 Holly had continuing kidney problems since she was one and a half years old. I know that Reiki had helped her kidneys to work well for her, and it helped her to feel well. Even when she was thirteen years old she had the energy of a much younger dog, and people were often amazed at her actual age.
Holly was put to sleep close to her 14th birthday with me and my husband by her side when she transitioned. She was receiving Reiki, and she went quickly. Holly was such a sweetie; she will forever be in my heart and with me in spirit.
Mittens the Reiki Cat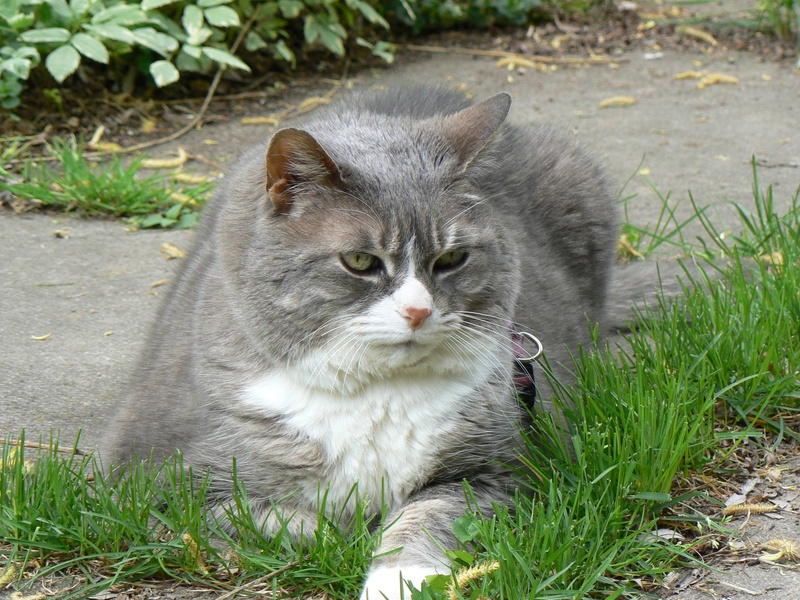 My cat, Mittens, loved Reiki and would sit on my lap as long as I would give her Reiki. I was with her at the vet's office when she was put to sleep, and she had her Reiki energized blanket with her. Mittens very quickly fell asleep and transitioned peacefully. It's not easy to keep yourself grounded when offering Reiki to animals when they are being put to sleep, but it is very important.
I feel a different sensation in my Reiki hands when an animal has passed away naturally than when they have been put to sleep. For some reason as soon as they have passed over naturally my hands stop sending Reiki. When they have been euthanized, my hands continue to send Reiki a bit longer, even though the vet has checked that their heart has stopped.
Always be considerate of your pet or animal and consult a veterinarian. It's a very difficult decision for anyone to make. We love our pets so much.
If possible it's a good thing to let our other pet(s) see their animal friend after they have transitioned. This gives them closure, and they will not be looking for their friend. They sense that their friend's energy is no longer present.
Reiki is such a gift to help an animal's end of life journey. It does get very emotional, but knowing that I have helped by channelling Reiki energy is very rewarding. Reiki is love.
©2016 Susan Rouse. All rights reserved. www.cedarcovewellness.com
Susan Rouse, is a Reiki Master Teacher, Animal Reiki Teacher, Therapeutic Touch practitioner and Axiatonal Alignment facilitator. Susan started her journey in energy healing to help her dog Cleo. She loves teaching Reiki to others, showing them how easy it is to use Reiki on themselves, other people and pets.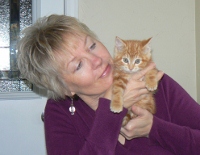 Susan Rouse RT-CRA, RAP-CRA Reiki for People and Pets www.cedarcovewellness.com