Hello everyone,
I've been teaching the Animal Reiki Workshops at PrimRose Donkey Sanctuary since 2009 and have been called 'the go to person for Animal Reiki'. Part of the proceeds from the workshops are donated to PrimRose Donkey Sanctuary to help with food, shelter and veterinarian care. I also volunteer weekly offering Animal and Equine Reiki sessions to the animals that live there. PrimRose Donkey Sanctuary is home to 28 donkeys, 8 mules, 32 cats, 2 pot bellied pigs, 2 sheep, 2 goats and Justin Credible the dog. Please let me know if you would like to attend this workshop or suggest another date or check the calendar on my website. http://www.cedarcovewellness.com/apps/calendar/
Here's some testimonials from previous Animal Reiki Workshops: "I attended Susan's Animal Reiki Workshop on April 23rd, 2011. Susan is an amazing teacher, very knowledgable and cares strongly about animals and her profession. I learned so much. Thank you Susan for giving me one of the best days of my life! "Julia W. Oakville, ON.
"Hi Susan, This is a big, big thank you for waking me up! As you might recall, I received my Level 1 Reiki about 15-20 years ago and basically did nothing with it. Having found the Animal Reiki class really excited my passion once again for this fabulous energy. My dog Jazz, a 13 yr old , has never liked storms. As he has aged, his ability to cope has decreased.- Panting, pacing, panting, pacing....Our fear was he would have a cardiac arrest. I took him into a closet and offered him a Reiki treatment. After a few minutes he laid down in the closet and fell asleep. I was thrilled for him! Later, the storm has yet to abate, he comes into the bedroom and lies on his mat and returns to a calm, restful sleep. I couldn't be more happy for him. Thank you, thank you, thank you!! " Lesley D, Guelph, ON.
"Susan, thank you again so much for a lovely day yesterday!!!! It will be an experience I will always cherish!!! The photos are great, you captured some beautiful moments. Thanks for all the pictures you are sending. I love photography and I will send a bunch of pics to everyone too today sometime!!! I will most definitely recommend you to anyone who is interested in Animal Reiki!!!! Peace and Gratitude to you!!!!" S.G. Kingston, ON.
"It was quite a wonderful experience (Animal Reiki Workshop). When the first donkey comes over to you to receive Reiki is amazing. Your not sure what to expect if you haven't worked with donkeys, but they are so receptive. Susan has them all spoiled with her healing hands. They know exactly what they want and need. Highly recommend this workshop or any that Susan offers." S.P. Stoney Creek, ON.
Animal Reiki Workshop at PrimRose Donkey Sanctuary Saturday April 20th 9:30am - 4pm. Helping the Animals We Love Heal with Reiki Energy.
Pre-requisite is First Degree Reiki or Reiki Level 1
More in depth work with animals with Reiki
Learn how to do an animal Reiki session
Learn the importance of grounding and how to do it.
Learn how to approach animals with Reiki
Learn about animal chakras
Learn about colour and animals
Learn how to energize items with Reiki
Guided Animal Spirit Guide Meditation with Reiki charged crystal
And much more!
Morning portion is at Cedar Cove Wellness in the Baltimore (Cobourg) Ontario area.
Afternoon portion is at Primrose Donkey Sanctuary offering Reiki sessions to the donkeys, mules (Equine Reiki), cats and pot bellied pigs.
Cost is $90.00 for Cedar Cove Wellness Reiki students or $120.00 for others.
$30.00 from each students fee will be donated to Primrose Donkey Sanctuary
Receive Reiki energized towel, crystal, Animal Reiki Manual and Certificate of Completion.
Light lunch, snacks, tea and water included. For more information or to sign up for this workshop please contact Susan Rouse 905-377-1743 or info@cedarcovewellness.com or website: www.cedarcovewellness.com
Animal Reiki Workshop webpage link: http://www.cedarcovewellness.com/animalreikiworkshops.htm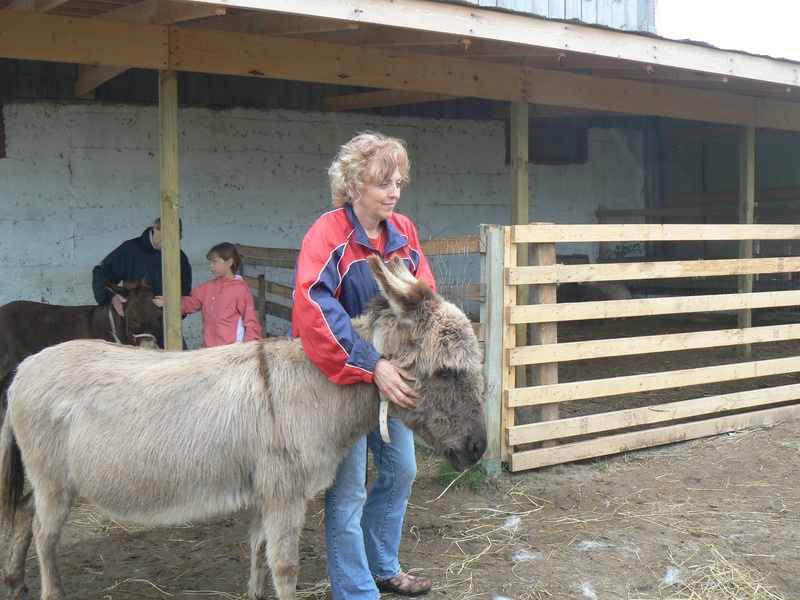 Here's a link to view more Animal Reiki Workshop photos http://www.cedarcovewellness.com/apps/photos/album?albumid=7423084
Payment for courses, sessions and workshops are now available through Paypal (you can use your credit cards through paypal) on the Cedar Cove Wellness website. You can still pay by cash or cheque in person. You can also pay by email money transfer
PrimRose Donkey Sanctuary is open for visitors Thursdays and Sundays 1-4pm. year round. http://www.primrosedonkeysanctuary.com
Reiki Blessings, Susan
Susan Rouse RT-CRA, RP-TT
905-377-1743
Cedar Cove Wellness
Reiki For People and Pets
Face book: https://www.facebook.com/CedarCoveWellnessReikiforPeopleandPets
Twitter: https://twitter.com/ReikiinCobourg
Pinterest: http://pinterest.com/reikiincobourg/